Reggie's "Affordable" Bed & Bath Accommodations

(808) 322-8888 or (800) 988-2246

fax: (808) 322-7777

email: vacation@bananabanana.com

Welcome to the Big Island! As you travel this beautiful island feel free to stop by and enjoy the comfortable and inexpensive lodging we provide.
Reggie's Tropical Hideaway is located south of Kailua-Kona, just north of
Kealakekua Bay. Our location is a convenient place from which to launch all kinds of adventures. Local buses and round-the-island buses stop regularly on Highway 11 (a 5-minute walk away). Hikers, cyclists and horseback riders can easily access scenic trails. The nearby coast is a huge playground with truly excellent swimming, snorkelling, diving, boogie boarding, surfing and kayaking year-round.
Large open-air screened living and sleeping quarters
Bedding, shower, and cooking facilities provided
Cable television
Private rooms ($45.00 to $75.00) depending on length of stay and number of people.
Reservations are requested. Cancellations one month prior to check in are subject to rebooking. Walk-ins possible (please call ahead).
A partial deposit is required.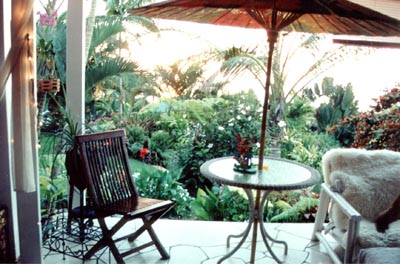 Other Useful Links:

BananaBanana.com Product Pages. The newest addition to our ohana(family). Here you will find high qualityHawaiian products.


Maui Hostel's: Banana Bungalow Maui international youth hostel in Wailuku, Maui, Hawaii. The hostel has free daily tours, free internet, free beach shuttle, free windsurf gear storage, a large Jacuzzi hot-tub and a tropical garden.
Reggie's Tropical Hideaway
P.O. Box 1107
Kealakakua, HI 96750